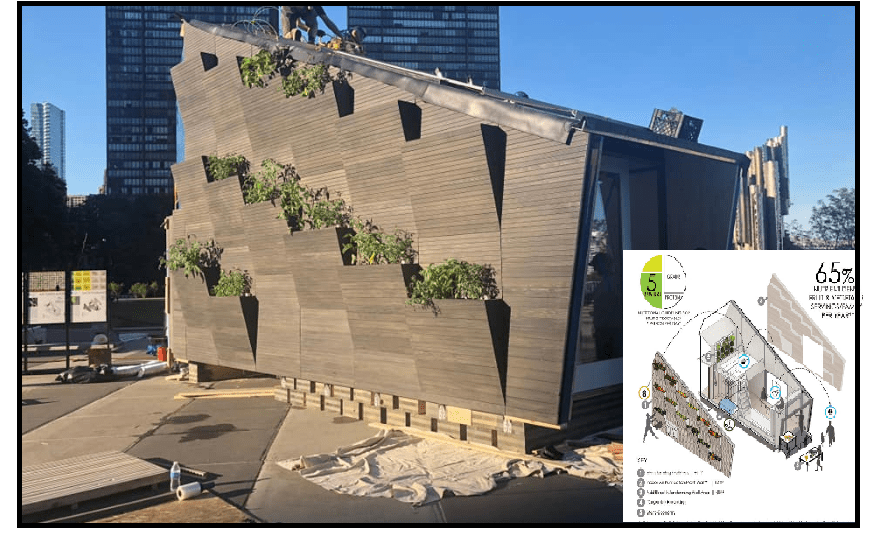 Preserving the environment has become an important matter that we must all take into consideration
This importance lies in the fact that the climate is greatly deteriorating due to global warming as a result of the excessive exploitation of energy sources polluting the environment that contribute to the emission of large quantities of carbon dioxide, which is the largest pollutant among the other gases emitted as a result of the combustion of gas or oil.
On today's topic, I wanted to talk about a beautiful idea that contributes to reducing gas emissions and reducing the exploitation of energy sources, as well as contributing to reducing the amount of household waste. The idea is a sustainable home (green building)that is environmentally friendly, so let's get to know this house in this article
What is a green building?
A 'green' building is a building that, in its design, construction or operation, reduces or eliminates negative impacts, and can create positive impacts, on our climate and natural environment. Green buildings preserve precious natural resources and improve our quality of life.
Small sustainable home (Green building)
The project that the United Nations Environment Program (UNEP) worked on with the Architecture Department at Yale University, USA, in cooperation with one of the professionally accredited architectural officess, was to present to the world the design of a very small but sustainable house that produces energy and water in addition to fresh vegetables.
Architect: Gray: Organschi Architecture
Area: 22 square meters
Construction completed: 2018
Location: United Nations Square in New York – United States of America
Project Features
The project provides an integrated model for sustainable architecture that reduces energy and resource consumption and produces energy, water, and food as well.
Relying on natural ventilation and taking advantage of the idea of ​​the air locker, and cold air entering from the top and exiting from the bottom.
Relying on natural lighting through the ceiling.
Purify the air inside the house through the kitchen plantation wall, which has an area of ​​12 square feet.
Collecting rainwater from the roof and purifying it.
The production of electrical energy through solar energy units (solar panels) on the roof of the building
Treatment of toilet waste to make organic fertilizer for agriculture.
Planting the exterior wall of the building with vegetables and fruits on an area of ​​48 square feet.
Using recycled materials in the construction of the house.
Using renewable materials and low energy consumption in home construction.
Intelligent information and data system for home management
Read Also : What is a Green university
Project importance

The importance of the project is that it is able to change reality, as the housing sector uses 40% of the total resources of the planet and produces more than one-third of the greenhouse gases in the world. Therefore, sustainable architecture has become an absolute necessity to preserve the resources of our planet while minimizing environmental damage as much as possible.
Many lives can be changed, as there are a billion people around the world who live in informal areas (unplanned) and there are also millions who live in buildings that are not environmentally friendly, in addition to the challenge of rapid urbanization and economic growth of local communities, so the trend towards sustainability is inevitable, and innovation in architecture and urbanization is an urgent necessity, not a luxury.
What are the benefits of green buildings ?
Green buildings bring multiple benefits. They provide some of the most effective means to achieving a range of global goals, such as addressing climate change, creating sustainable and thriving communities, and driving economic growth. [1]
The benefits of green buildings can be grouped into three categories: environmental, economic, and social.
#1.Environmental
Green buildings can not only reduce or eliminate negative impacts on the environment, by using less water, energy or natural resources, but they can – in many cases – have a positive impact on the environment (at the building or city scales) by generating their own energy or increasing biodiversity.
#2.Economic
Cost savings on utility bills for tenants or households (through energy and water efficiency)
lower construction costs and higher property value for building developers
New post jobs created
#3.Social
Green building like officer or green houses support healthier, happier and more productive lives; through best indoor air quality ,help Workers in this green, well-ventilated offices to improve brain functions
[1] * Benefits of green buildings (https://www.worldgbc.org/benefits-green-buildings)
Hi My name is Abd Allah i am web content creator and renewable energy phd engineer.
I started blogging since 2 years what make me create this blog is the importance of sharing information with readers who love this field, I think i m not the first one who is familiar with this field but every person has his touch.i love nature and i think renewable energy will take over the responsibility of preserving this beautiful world.