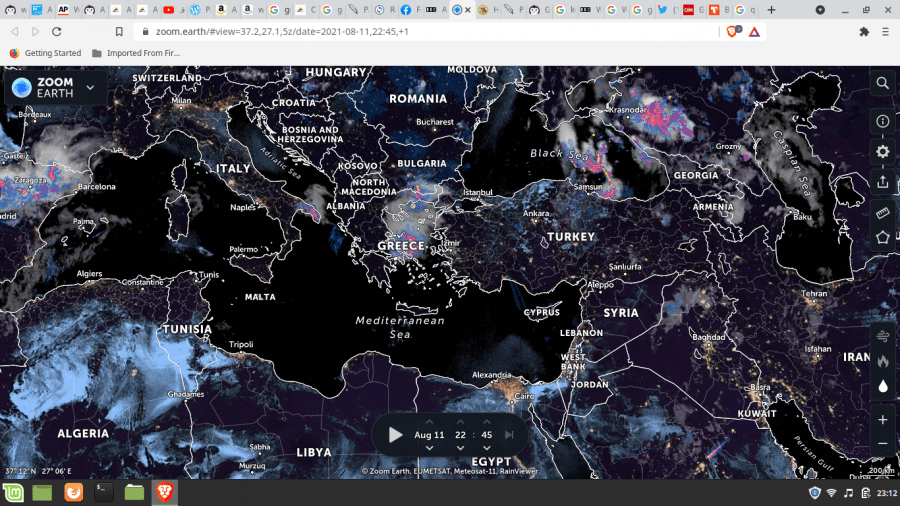 After the massive fires in Greece and Turkey, Algeria is also following wildfires in mountain forests and villages. 
Wildfires in Algeria leave 64 dead, including 25 soldiers
Thirty-one fires broke out in the forests of 16 Algerian states in the course of one day, causing at least 64 (25 soldiers and 39civilians ) deaths and many casualties, according to official television.
"The situation is very serious as a result of these fires," said Tizi State Forest Governor Zou Ouad Mohamed Youssef, in a statement to Algerian television, confirming that "64 deaths have been recorded so far."
Civil Protection (Civil Defense) reported that this State, east of the capital, had registered 10 fires in its forests and another 4 in Jijel State, and two fires had been registered in each of the provinces of Sutayf, Khishla, Qalama, and Bajiyah (east of the country).
A fire has been recorded in the provinces of Bawaririg Tower, Bomerdas, Tهart, Medea, Tebsah, Blida, and Skikkar. The Civil Defence used mobile ferries and two helicopters to put out fires in Tizi ouzo.
Various parts of the world have experienced forest fires, which scientists are linking to global warming. Thousands fled their homes on the Greek island of Evia, Sunday, as fires raged and were uncontrollable for the sixth consecutive day, while ferries prepared for further evacuations after hundred were transported to safe areas by sea, according to Reuters.
President Abdelmadjid Tebboune tweeted that the soldiers were "martyrs" who saved 100 persons from the fires in two areas of Kabyle, the region that is home to the North African nation's Berber population. Eleven other soldiers were killed fighting the wildfires, four of them seriously, the Defense Ministry said.
Prime Minister Amene Benabderrahmane later announced on state television that 17 people had died, up from seven previously and bringing the total death toll to 42.
As of Monday night, the Civil Protection authority had detected 41 fires in 18 wilays, or regions, with 21 of them burning near Tizi Ouzou.
The rugged Kabyly region, 100 kilometers (60 miles) east of Algiers, Algeria's capital, is peppered with difficult-to-access settlements and has had insufficient water due to rising temperatures. Some locals fled, while others attempted to put out the fires using buckets, branches, and primitive tools. There are no water-dumping planes in the area.
"Three fires in the same place at the same time can't be by chance," Beldjoud declared on national television, despite the fact that no arrests had been made.
There was no immediate information available to explain the high military death toll. A soldier with a shovel doused blazing flames with soil, his automatic rifle draped over his shoulder, was seen in a snap.
Three people were detained in July on suspicion of lighting fires in the Aures highlands, which destroyed 15 km (six square miles) of the forest.
one year ago, a fire damaged almost 440 km 2 (170 square miles) of the forest, and numerous persons were arrested on suspicion of arson.
Turkey fires 'worst in its history'
The fires climbed up the hills, dispersed and increased with the help of the wind, and raced down to the beach. Locals in some areas ran to the sea, filling plastic buckets with water to fight the flames that were approaching their homes. Others were forced to flee or drive for their lives. The sky shifted from grey to orange.
Following record heat and a severe drought, at least eight-person died in flames along Turkey's southern and western shores at the end of July. Thousands more have been evacuated, including visitors from seaside resorts, some of whom attempted to flee by boarding boats.
Wildfires have ravaged Greece, causing a "catastrophe of unparalleled dimensions.
Evia, Greece's second-largest island, has been in the midst of a firestorm that has decimated the country. According to local officials, moreover half of the island has burned.
For Greeks who rely on the forests for their livelihood, the fires have been catastrophic. Local inhabitants in Evia told CNN that national assistance arrived too late. Their harvest, which included resin, honey, olives, and figs, was obliterated by the flames.
what causes wildfires ?
Wildfires are divided into nine categories based on their causes. Each general cause has a subcategory called "particular cause" that further details the fire's starting source. The following are the general and specific causes:

1.fires that occur naturally

Lightning is the most common source of naturally occurring fires. Depending on the situation, there are also volcanic, meteor, and coal seam fires.

2.fires Caused by Humans

fires started by humans might be unintentional, purposeful (arson), or the result of neglect.

Fire Cause

The official system of record BIA uses for reporting purposes is the Wildland Fire Management Information (WFMI) system.
General Cause
Lightning : Lightning but could also include volcanic meteor
campfire ; Debris burning, burning ditches, fields or slash piles, etc..
Miscellaneous; Includes burning buildings, fireworks, power lines, shooting (ammo, exploding targets), spontaneous combustion (hay baled while still wet, compost piles, oily rags), blasting, and coal seams.
juveniles; Exhaust, brakes, railroad work, etc Fire play – matches, fireworks, lighters, etc
Railroads ; Vehicles, aircraft, exhaust, flat tires, dragging chains, brakes, etc.
Equipment ;Arson, illegal or unauthorized burning
Other Known or Unknown
When a specific cause is unknown or the cause is not in the specific cause list, then other known or unknown is selected.  When "other" is selected,
the cause should then be noted in the remarks (i.e. exploding target).
If fire investigators are unable to pinpoint a cause or the fire's origin is destroyed, the fire may be classed as "unknown." It may have been determined to be caused by humans, but the general or specific cause may still be unknown.
What are the main causes of wildfire?
In the United States, humans are the leading cause of fires. Many of these fires are started by cigarette butts that have been left on the ground, unattended campfires, and purposeful acts of arson. People are to blame for 90% of fires in the United States.
Wildfires:how are they linked to climate change?

Heatwaves, droughts, wildfires, floods, and storms are all being exacerbated by global warming caused by the combustion of coal, oil, and natural gas, according to climate scientists. Drought and heat, both connected to global warming, are fueling wildfires in the western United States and Russia's Siberia region. The enormous fires in Greece are also being fueled by extreme heat.
So far this year, more than 3.5 million acres have been killed across the United States. That's a million more than at the same point in the previous fire season, which ended up being the most destructive on record.
So far in 2021, the number of acres burnt in the United States is below the 10-year average, with some states faring better than California.
However, experts caution that it is still early in what is shaping up to be an unusually dry and extended fire season. Hot, dry weather is more likely to fuel fires as a result of global warming.
Dr. Susan Prichard, from the School of Environmental and Forest Sciences at the University of Washington, says: "We now have the conflagrations in California that we feared, following the record-setting heatwaves.
"Given that California's massive wildfires have burnt all the way into November in recent years, I'm afraid that we might be set up for another record-breaking fire season."
Hi My name is Abd Allah i am web content creator and renewable energy phd engineer.
I started blogging since 2 years what make me create this blog is the importance of sharing information with readers who love this field, I think i m not the first one who is familiar with this field but every person has his touch.i love nature and i think renewable energy will take over the responsibility of preserving this beautiful world.