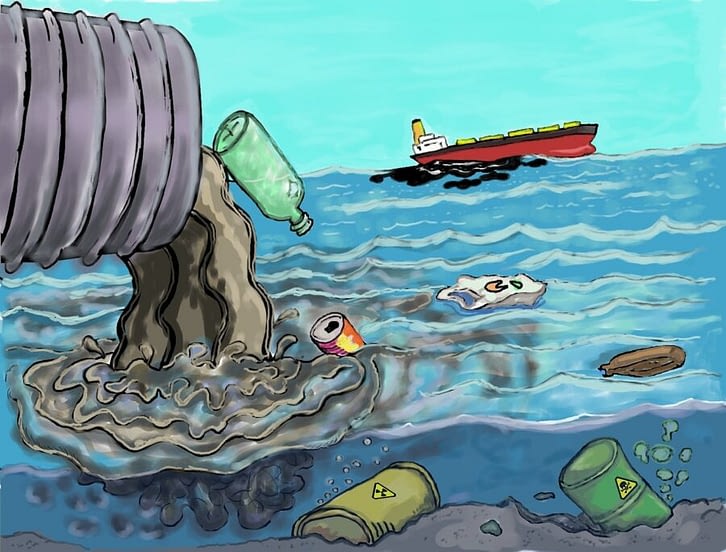 The degradation of the environment can be the main cause of major crises in a society, even its complete collapse. This is the stark reality that we learn from the history of past and present civilizations. It also teaches us that environmental management has always been a particularly complex problem.
Collapse for ecological reasons is defined as the decline of a society or a civilization over a very long period, or even an irreversible decline, marked by a reduction in population or in economic, political or social complexity, in part due to environmental deterioration or societies are not equal when it comes to their environment. Some are more pampered than others and enjoy more or less favors from nature. Depending on the circumstances, some companies will be sustainable, while others will not. In particular, under identical environmental conditions, some companies will endure and others will disappear. So ecocide, ecological suicide, is not inevitable.
The Degradation of the environment collapses both great and small civilizations
#1.Small civilizations collapse
The example of Easter Island Chile
Easter Island, a classic case of a society that experienced a collapse for environmental reasons, suffered from particularly difficult conditions. Small in size and isolated, therefore without commercial links with the outside world, the geographical location of the island has equipped it with slow tree growth and fragile soil fertility, ashes from volcanoes, and dust coming from the continents allowing fertilizer the soil being rare. Under the circumstances, the Easter Islanders did not know how to manage their forests in a sustainable way: they deforested to erect their famous stone statues, to transform them into agricultural land, to build canoes. for deep sea fishing, for heating, for cooking, etc. Deforestation was such that the island was left almost completely treeless during the sixteenth century.
The lack of trees, therefore, paralyzed the construction of canoes, which led to a shortage of food resources from the sea. The lack of trees also led to a deterioration in soil quality, in particular soil erosion. which reduced agricultural yields.
Finally, it caused a reduction in the number of birds, thus a loss of food resources, and a reduction in the available fruits: pink apples, palm nuts and wild fruits, so we can easily imagine the heightened tensions caused by such reductions in food availability. In fact, the Easter Islanders experienced famine, saw its population decline, and, in the extreme, led to cannibalism
#2. The Degradation of the environment can also collapse big civilizations
Easter Island is an extreme case as it is a small society that has collapsed almost entirely due to environmental degradation. But other, larger and more complex societies also disappeared, such as the Anasazi in the southwestern United States, the Vikings in Greenland, and the Mayans. This last example shows that even the most organized and developed societies can also disappear and that inadequate management of the environment can contribute very strongly to it.
The example of the Mayan civilization
The Maya formed a long-lived and highly developed civilization in central America, from about 3000 B.C. to A.D. 14th century. They were the only native American civilization to have a fully literate culture and they knew mathematics and made astronomical observations.
There is a certain mystery about the Maya. Until relatively recently many aspects of their society were unclear. Even their material culture was little known because their abandoned cities were overgrown and inaccessible. Most mysterious of all was the sudden collapse of
the civilization from the ninth century A.D. which, within 100-150 years saw a reduction in population by at least 70 percent in the southern lowlands and the desertion and decay of many of their cities.
Mayan society thus experienced population growth that its resources could not support. As in many societies, deforestation has been a scourge that has led to soil erosion, and consequently to nutritional impoverishment in a demographic context that required enrichment. Obtaining land was thus the object of conflicts and internal wars which weakened civilization. Irregular rainfall, therefore sometimes chaotic water availability, and especially severe droughts amplified these problems and ended up leading to collapse, a process that actually took place over several periods. Finally, it turns out that the leaders failed to provide an appropriate response to the environmental crises that were raging.
The success of small civilizations
These two examples of small, sustainable companies. The former faced a great threat to its survival due to massive deforestation. Part of its exceptional longevity (46,000 years) has been built on the implementation of various good environmental practices throughout its history, in particular the forestry of one species of trees, in particular, the casuarina has various advantages, such as having rapid growth, providing quality construction timber and being a good fuel. Tikopia Island benefited from favorable climatic conditions: high rainfall, medium latitude, heavy fallout of volcanic ash and dust from Asia. But the inhabitants have also helped themselves by growing many
species of food plants, including fruit trees, and by eating food from the sea: shellfish and fish. Notably, these products were the subject of taboos, which made their exploitation viable.
These two societies, New Guinea and Tikopia, were also a culture of limiting demographics so that they did not exceed available resources. Different methods have been used by these two peoples: coitus interruption, abortion, for example by placing hot stones on the mother's stomach, or infanticide, by suffocating children.
In addition, on Tikopia, the youngest children, those who had no land, remained single, while others appear to have committed suicide.
The success of large civilizations
The example of Japan
It is a large, complex and very hierarchical. At the turn of the 17th century, the country experienced a prosperous and peaceful period but also a serious environmental crisis which resulted in particular from a vast and long deforestation of the territory. This situation was due to a strong demand for wood, whether for construction, for heating homes, for cooking and for industrial uses, especially for making tiles and ceramics. The intensive use of wood was reinforced by the cultural preference the Japanese had for this noble material. The situation was also amplified by significant demographic growth, especially during the 17th century.
As the shortage of wood began to be felt and tensions arose, the rulers of Japan changed the ways of doing things. The leaders began by cutting its ties with the rest of the world. They imposed new ways of managing the forest. The use of wood was thus rationalized, favoring products that used less material, for example, lighter constructions or less energy-consuming stoves. The decrease in large hearths and heating stoves was concomitant with the development of the use of the heat of the sun to heat houses in winter.
Conclusions
Success will depend primarily on the political will and courage of the leaders as well as the level of awareness and involvement of individuals ( read: 6 easy steps for an eco-friendly life ). The knowledge we have from the past gives us the chance to be able to understand the current situation, anticipate problems, and know the solutions. Hopefully, contrary to what has been observed so far, contemporary society does not stand still for too long.
You May Like Also :
Deforestation is the permanent removal of trees to make room for something besides forest. This can include clearing the land for agriculture or grazing, or using the timber for fuel, construction or manufacturing.

Live sience
Hi My name is Abd Allah i am web content creator and renewable energy phd engineer.
I started blogging since 2 years what make me create this blog is the importance of sharing information with readers who love this field, I think i m not the first one who is familiar with this field but every person has his touch.i love nature and i think renewable energy will take over the responsibility of preserving this beautiful world.