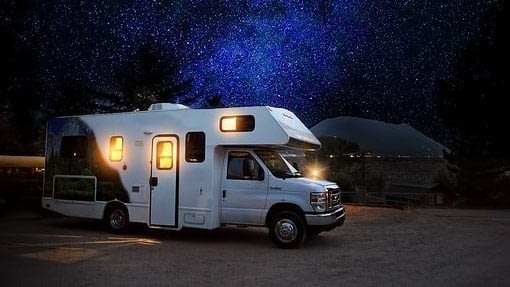 We've all drooled over a picture of caravans in the middle of a forest at least once and we've all had that thirst for wild adventure by watching a movie. In fact, everyone wants to explore their country, and nothing better than a caravan for that.
Who has never dreamed of traveling the country to discover the most breathtaking landscapes from the north to the south, the east to the west, midlands, and to meet nature?  To sleep under the starry sky, to take a coffee with cookies next to one of the most beautiful views of a lake or river, to read a book in a calm forest, under bird chirps.

Before telling you what are the places that are most worth visiting in UK or Australia, let's answer two or three questions about caravan history, brands, and prices.
1 How did caravans evolved through history ?
Caravans are dwelling vehicles that are usually towed by cars with trailers. On the other hand, a caravanette, also called a motorhome, is a motor vehicle with a dwelling compartment in the back.
Often used for holidays, they have gotten very popular because they are both ideals for every camper and family who wants to travel and explore the country.
Made of mahogany and maple wood, the Wanderer was the first caravan ever built. Dr. Gordon Stables designed and commissioned it in 1885. Including a china cabinet, a bookcase, and a piano for leisure goals, it was fantastic to see such a thing on the road.
One year after WWI, UK saw the emergence of commercial touring caravans with the Eccles Motor Transport, established by Bill Riley and his son.
Caravans eventually became more affordable and popular with the creation of Car Cruiser in 1937, then world famous in 1948 through Streamlite Rover with the concept of a weekend getaway.
Size and construction materials have evolved over years, from cheap to luxury quality, the caravan was trendy and loved among people. Swift Corniche, Bailey Rangers, and Elddis Genesis are now the models we know, although I invite you to check the full history on http://www.salopleisure.co.uk/caravan-history/.
2 How much do caravans cost in UK ?
New caravans cost from £15.000 to £100.000 whereas used ones cost from £5,000 to £50.000.$.
You will find caravans for sale online at www.leisureworldgroup.com and you can make a good deal for less than £20.000. Divers models are available such as Elddis, Bailey, Xplore, Swift, and many others. A large range of static and touring caravans is available on www.autotrader.co.uk and the prices start at £1000 and they are in a good condition despite they are used.
If you are looking to buy a new model, you will find a huge choice on the websites of the dealerships in the field. From the most simple to the most stylish, modern, and innovative designs, the suppliers offer a wide stock of designs and cover the maximum of customers who are located across the country to provide those who use campervans just as a hobby as well as holiday camping journey.
The largest selection of new caravans to sell is available on the dealers' websites with info about their products and a local dealer nearest to you. You can get to choose your style and design from the range of Swift's vans in www.swiftgroup.co.uk, the prices start from £18,420 and the plans of the manufacturer are online. Bailey released a new model called New Unicorn, with prices starting from £26,799 whilst the cheapest one, which fits for a couple, starts from £18,099. Coachman's prices start at £28,745. Ariva, by Lunar Automotive, offers a comfort campervan that can suit a couple for £17,499 only.
Erwin Hymer UK produces Elddis, Buccaneer, Xplore, and Compass caravans. They are still one of the leading workers in the UK and their prices start at £15,194
You need to know that, besides the details on the websites, some of the factories, such as Bailey Group, also display pre-owned caravans for tourers on their website.
3 What is the best caravan brand ?
Based on the info above, we can assume that each UK's industry offers a row of caravans from low to high quality, from compact to maxi spacious size to suit every budget and please all campers. Now you may wonder how to make the right choice over all these brands? Which model you can buy with the warranty that you will love it? Which factory you can approach to get the dream van?
According to the practical caravan, the Slovenian company Adria is the most appreciated by UK's tourers. With so many options online, you can even configure and custom your caravan to get a view of what it would look like. Besides, they also offer advice about van life and inspirations. Although Bailey and Swift got bad ratings on google recently, Bailey's new unicorn range sees growing popularity among people only, and Swift group included several brands and expanded through years, which reflects a lot of experience.
Whereas most companies work on offer RV, mobile home models, and motorhomes, Coachman is the only UK manufacturer focusing on caravans and despite the bad comments they received recently about the servicing support, customers don't deny the good quality of their products.
Freedoms are the UK's favorite lightweight caravans. They build small caravans which are also super cozy inside. With a living space that can also be used as a bedroom, which is perfect for couple travelers and, after all, comfort is the real matter.
The German brand, Knaus, have gained popularity through innovation in their models. They even have a brand, Weinsberg, specialized in family layouts, offering models that fit from four to eight people, which avoids extra tents for families.
read also; Best Small Caravans In 2021 – Lightweight & Easy To Manoeuvre

4 Which places are the most worth visiting in UK ?
Owning a caravan today is the best way to go on an adventure since all you have to do is tie it with a trailer to your car and drive. Pack your bag, hit the road, and let's see the top 5 of the best areas to fully enjoy your holidays as movers.
Although Ullswater Lake is a quiter place with less visitors than The Lake District, they both are superb parts of UK's sights to go to.
Cairngorms is one peaceful region to visit in the north of Scotland where you explore stunning mountains and meet various animals. Glenmore Forest Park and Lochan Uaine offer wonderful views whereas Monadhliath Mountains are perfect for hikes and you can even stop off at some local restaurants.
If you love castle views, you will be very pleased in Northumberland Costaline. With historic buildings melted to nature and islands around, the place is absolutely majestic.
The Seven Sisters is an amazing zone including ancient vallys in the south coast of England. The site has a website in which you can find information about the activities and restaurants.
The Peak District is UK's first national park that is an easy spot to get to when you're heading to Manchester. Its intriguing caverns cover a running underground river, the sight is just breathtaking.
Where Should I Buy My Caravan?
Like tiny homes, a new or used caravan can be purchased in a variety of methods and from a variety of locations. Here are a handful, along with some advantages and disadvantages.
Buying at a show: Shows are great places to see a wide range of new caravans.
Buying from a dealer : A local dealer close to your home is a good idea because it will be easy to return in the event of a problem or for routine maintenance.
Buying online
You May like also